Our Ponte Vedra Veterinary Staff
Meet the talented staff of Crosswater Animal Hospital!
Get to know some of the most talented veterinary staff in the Ponte Vedra, FL area before your next visit! The staff here at Crosswater Animal Hospital are committed to providing exceptional veterinary services and care for all of our patients and clients. Learn more about our outstanding team members with the information below.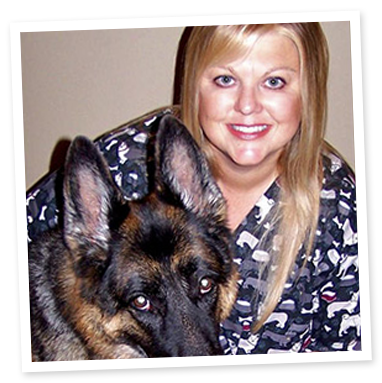 Allison Staley, Client Care Coordinator
Allison Staley joined Crosswater Animal Hospital as Client Care Coordinator in October 2014. As Client Care Coordinator, her responsibilities include greeting clients, scheduling appointments, answering telephones and being our IT guru. Allison's computer expertise, which was acquired by attending the ICM School of Business in Pittsburgh, has made her a valuable asset to the Crosswater Animal Hospital team.
"I love the way our staff genuinely cares about every patient and the amount of time spent individually with each family and every pet," she says.
In her free time Allison enjoys spending time with her husband and two daughters, who are actively involved with soccer at a competitive level. She's also the happy pet parent of four dogs - a Chi-Weenie named Cheenie, a German Shepherd named Sadie, a Golden Retriever named Renegade and a Pomeranian named Simone.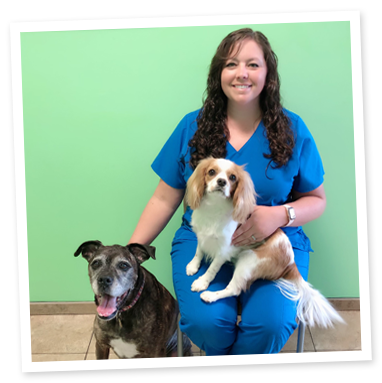 Chelsea Gustafson, Lead Veterinary Technician
Chelsea Gustafson began working at Crosswater Animal Hospital in October 2014 and is our Lead Veterinary Technician. Chelsea's responsibilities include collecting blood samples, running laboratory diagnostics, radiography, and managing pre- and post-operative patient care. She provides a safe and comfortable environment for the pets who visit us each day.
Chelsea has spent over two decades working with companion, avian, exotic and livestock animals. Her background includes horseback riding instruction, canine obedience instruction, as well as previous experience in clinical veterinary medicine and surgery. Chelsea is a passionate animal lover. This characteristic makes her a motivated contributor to the Crosswater Animal Hospital team.
"I love how devoted the entire staff is to each pet and their families when they come in for a visit," Chelsea explains. "It's great to have colleagues that really put their heart into their work."
Chelsea has a Bachelor of Science degree in Animal Sciences from Virginia Polytechnic Institute and State University. When she's not at work, you can usually find Chelsea horseback riding, hiking with her dog, Piper, and spending time with her husband and family.
Stephanie Johnson, Veterinary Technician
Assisting our doctors in exam rooms and in surgeries is a major part of Stephanie's responsibilities as a Veterinary Technician here at Crosswater Animal Hospital. Stephanie also helps by providing quality care to our patients and clients, and by making sure our clients are educated and informed. The part of her job that Stephanie loves the most is being able to educate our clients about diseases, behavior, and how to provide the best care possible for their furry family. She is especially understanding of cats and what they need to be handled in a comforting and endearing way.
Stephanie is currently enrolled in the University of Florida and plans to graduate in spring of 2019 with a degree in Healthcare Management. She plans to apply for respiratory therapy or nursing school following her graduation. Stephanie has been working in the animal related field for over 13 years. She has experience with veterinary internal medicine, oncology, and emergency medicine, and has worked at an all feline practice.
"It is a family atmosphere," Stephanie says. "Dr. Zalud is so supportive. It is so comforting that my boss and colleagues have my back. I enjoy coming to work each and every day because of the positive environment and the superb medicine and care that is provided here."
Away from the hospital Stephanie enjoys camping and going running. She also loves to spend time with her daughter Parker, her son Preston, and her husband Michael. Stephanie and her loving husband make sure to support their daughter's competitive dance hobby, and their son's guitar playing every chance they get. They all share their home with 3 cats named Frankenstein, Custard, and Mister Bevs. They also own a Boxer named Humphrey and a Bearded Dragon named Spot.
Mackenzie Matheny, Veterinary Assistant
Mackenzie is our Veterinary Assistant at Crosswater Animal Hospital who joined our team in June 2018. She works alongside our doctors assisting patients, as well as, filling in for our receptionist performing office duties. She has a Doctorate of Physical Therapy from the University of St. Augustine for Health Sciences. Her background in physical therapy, attention to detail and professionalism make her a great fit for our team.
When discussing Crosswater Animal Hospital, Mackenzie shares, "I love working at this clinic because of the one-on-one time you get to spend getting to know the pets and their families. I also love the personal and efficient care they provide to families and their furry family members."
Mackenzie is our resident cat lady with four cats as part of her family: Himmie, a Persian and Himalayan mix, Tarzan, a gray and white domestic short hair, Odette, an orange Tabby, and Batman, a black domestic short hair.
In her free time, Mackenzie spends most of her time crafting, running, tumbling and playing ultimate Frisbee. She also enjoys traveling and exploring with her husband to discover delicious local eateries.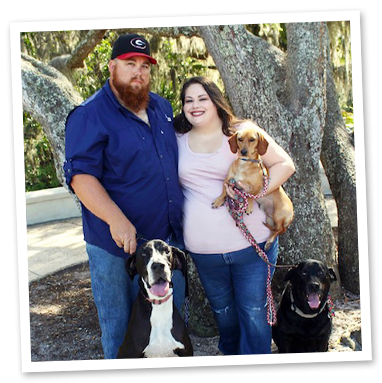 Ashley Brown, Veterinary Technician
Since joining the Crosswater Animal Hospital team as a Veterinary Technician, Ashley has been working hard to establish meaningful client and patient connections. She has made great efforts to assist our veterinarians in providing the best care possible by collecting patient history and vitals, monitoring anesthesia and assisting in surgical procedures, running routine lab work and diagnostic tests, filling prescriptions for patients and much more. The part of her job that Ashley likes best is having the ability to help sick or injured pets restore their health and happiness, while seeing their progression along the way.
Ashley has been working in the animal related field for a few years, having prior experience as a Receptionist and Veterinary Technician. She aspires to pursue an education or program to attain certification in veterinary technology.
When asked about working with Crosswater Animal Hospital, Ashley says "The Doctors and Technicians alike both treat pets and their owners like family. I always feel it's not only a place to work for me, or just a job, but it feels like another family and home."
Ashley is a volunteer for a Florida Great Dane rescue called Foster, Transport and Rescue. She owns two Great Danes, Kane and Dixie, both of whom are rescues. She also has rescued a Mini Dachshund named Toby and a black Lab named Jake. Ashley is an avid Disney person, as she and her husband have season passes to Disney World. In her spare time she likes to collect pottery, play with her dogs and visit with her loved ones.
Courtney Dowd, Veterinary Technician
Courtney Dowd is a Veterinary Technician here at Crosswater Animal Hospital. Her job responsibilities include administering anesthesia, blood draws, and being an exam room technician. She loves working at Crosswater Animal Hospital because of the high-quality care the practice serves and the friendly, hardworking team she's surrounded by day by day. Helping pet owners feel at ease is what she likes best about her job.
Courtney has several years of specialty experience, specifically surgery and oncology, which includes radiation and chemotherapy. She has an associate's degree from Bel-Rea Institute of Animal Technology in Denver, Colorado. In her free time, Courtney loves spending time with her husband and son. She also enjoys watching movies, hiking, pet sitting, and travel.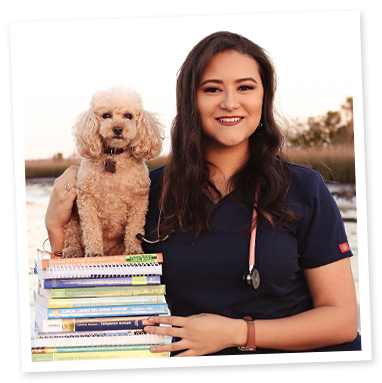 Heather Fox, Veterinary Technician
Heather Fox is a Veterinary Technician at Crosswater Animal Hospital. She's been a part of our team since August 2019. Some of Heather's job responsibilities include administering medications and vaccines, preparing and monitoring for surgeries and dental procedures, and taking radiographs. She loves being an advocate for patients and working side by side with our team. "Crosswater Animal Hospital is a great place to learn and grow," says Heather. "Such a positive group to work with. Everyone is so uplifting."
Heather has an A.S. in Veterinary Technology from Pensacola State College and an A.A. from Florida State College of Jacksonville. At home, she has a 10-year-old Toy Poodle named Jack and a mouse named Gus Gus. When Heather is not caring for patients, she likes to spend her free time and the beach and binge-watching her favorite shows on Netflix.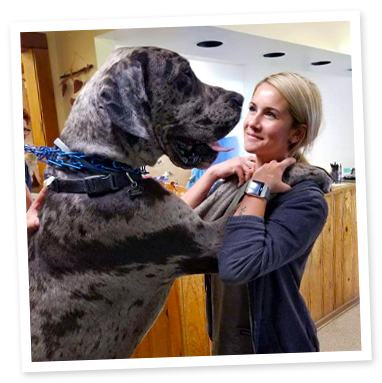 Beth Lorraine Paterson, Client Care Coordinator
Beth Lorraine Paterson is a Client Care Coordinator at Crosswater Animal Hospital, where she's responsible for greeting and welcoming clients. "I enjoy interacting with each owner, but to be honest, I enjoy the wagging tails more," says Beth. She also enjoys working with the kind and caring hospital staff. "One of the most wonderful things about this hospital is that the staff makes you feel at home and you know your pets are being treated like family." She has an Associate's Degree in Business and Liberal Arts. During her free time, she's a very active and creative individual. Beth also loves to spend time with her family and fur children.