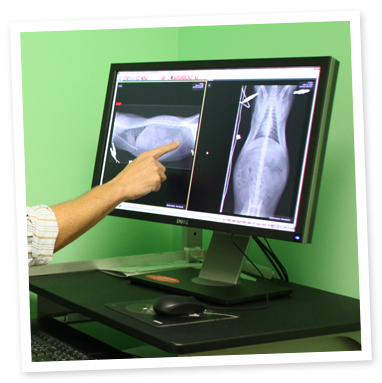 Diagnostic Services
Digital Radiography
Diagnostic imaging often plays a pivotal role in many clinical cases, both surgical and medical. At Crosswater Animal Hospital, we use the latest in advanced computerized (digital) radiology as part of your pet's diagnostic care. Our sophisticated digital imaging system allows your pet's images to appear in a clear and easily discernible manner to not only our team, but also outside veterinary medical and surgical specialists, allowing everyone to fully assess and recommend the best and proper treatment for your pet.
Digital radiographs (x-rays) are extremely helpful for diagnosing and monitoring many medical and surgical conditions, such as examining your pet's bones, lungs, heart, abdomen, skull, oral cavity and other areas of the body. A digital x-ray can spot a fractured bone, detect tumors, help with the diagnosis of heartworm disease and/or locate an obstruction or foreign body in your pet's intestine or stomach. When used in conjunction with other diagnostic imaging modalities like ultrasound, radiographs can accurately diagnose problems, making treatment faster and easier for your pet and veterinarian.
Digital radiography is a form of x-ray imaging that replaces traditional photographic film. At Crosswater Animal Hospital, we offer both full body and intraoral (dental x-ray) digital radiography. This type of radiography offers advantages such as improved time efficiency because chemical processing is no longer required of the digitally enhanced imagery of scanned images. Additionally, less radiation than conventional radiography is used and your pet incurs less stress since the overall x-ray process is expedited.
Additionally, our digital radiography system provides an environmentally-friendly way to analyze your pet's condition by eliminating the waste of film and developing chemicals.
Ultrasound
Ultrasound is a brief, invaluable and non-invasive procedure for making treatment decisions for various types of diseases, assessing the health of internal organs and identifying lesions, their origin and whether they have spread to other areas of the body.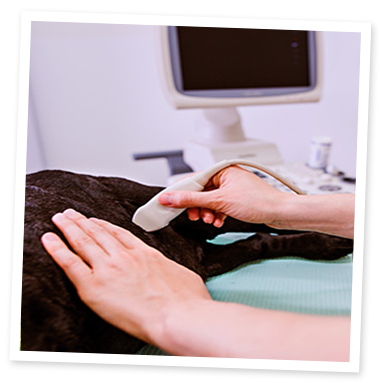 Ophthalmology
Just like humans, animals can develop problems with their eyes or vision. Dr. Zalud and the team at Crosswater Animal Hospital have diagnostic technology and expertise to test for glaucoma and/or inflammation that may be occurring inside the eye.
Some symptoms to watch for regarding your pet's ocular health include:
Squinting or holding eye(s) shut
Scratching or rubbing at eye(s)
Excessive green or yellow discharge
Swelling of the eye(s) or eyelid(s)
A change in color, especially cloudiness or redness
A change in the size of the eye
Laboratory Services
Crosswater Animal Hospital is equipped with the most advanced in-house laboratory - a full service diagnostic lab that allows us to perform complete blood cell counts, chemistry profiles, electrolytes, urinalysis, fecal parasite centrifugation exams, cytology evaluations and other valuable tests. We are able to receive immediate and accurate results, helping to determine your pet's diagnosis and what treatment therapy is required in a timely manner. Our sophisticated laboratory technology is particularly essential to our emergency and illness cases. We can often have results within 30 minutes for many tests.